Stadler makes many special products. Some of them are genuine electric locomotives. Projects relevant to Railcolor.net:
---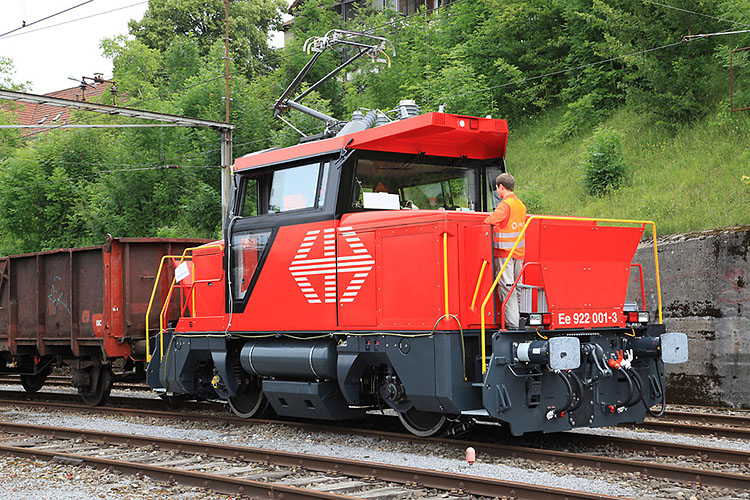 Ee 922 series electric shunters for SBB (2009-2010)
On 19.12.2007, SBB announced an order for 21 electric shunting locomotives, to be delivered from July 2009 to 2010. Stadler Winterthur AG has developed the two-axle units for the SBB of which the first one is outshopped this month. Its designation is Ee 922 and these machines will be based in Basel, Bern, Biel, Brig, Chur, Luzern, St. Gallen and Zürich, where they will be used for shunting activities for passenger services around these stations. Until the end of 2009, the Ee 922 001 was be tested and evaluated.
The Ee 922 has a Bo wheel configuration and 612 kW duration power. Its top speed is 100 kph. It weighs 44 tonnes and its traction effort goes up to 120 kN. The concept of an electric shunter is very unique in Europe nowadays, which makes the Ee 922 a remarkable product.
---
Eem 923 series electric shunter for SBB Cargo (2012-2013)
On 14.10.2011, Stadler presented another new shunting locomotive, the Eem 923 series hybrid shunter, nicknamed 'Butler'. These machines are built for SBB Cargo.
On 09.03.2012, SBB Cargo commissioned the first Eem 923 series locomotive, after the official ceremony at Limmattal marshalling yard, near Zurich. During this happening the Eem 923 001-2 got named after a mountain nearby; Heitern. Because all locomotives will be stationed in regional operating centers, they will all get a names from local mountains.
It took Stadler Rail 576 days to get the first locomotive ready for regular service. When completed, only three different types will remain in the SBB Cargo fleet for shunting operation; the Tm 232 tractors, the diesel-hydraulic Am843 and the hybrid Eem 923. - cargo-blog.com
The SBB Cargo Eem 923 section.
---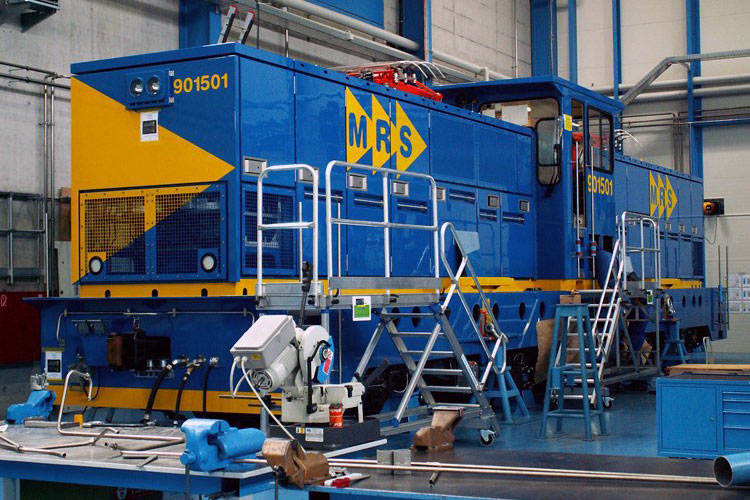 Heavy duty rack-and-adhesion 901500 series for MRS Logística in Brazil (2012)
From the Stadler Rail product sheet: The railway line from Sao Paulo down to the port of Santos has a nearly 10km long part with rack drive. The great part of good trains operating there are iron ore trains. The new locomotives will be able to haul 50% more load than the existing old locomotives at higher speeds. Two new locomotives in multiple traction can haul a 750to good train on the 104‰ ramp, using a strong triple rack bar system.
The especially designed new locomotives will have the enormous power of 5 MW at 3kVDC catenary tension. They will be able to recuperate the produced energy while braking down the heavy trains. The rack gears and braking systems are built in a brand new design and are unique in the world.
Seven such machines were ordered in 2010. On 05.06.2012, Stadler Rail and MRS revealed the first two (almost) completed units, the designated 901501 and 901502.
The MRS Logistica He 4/4 section.
---