in short

MRCE-Dispolok ES64F4 series

In this section, different series of ES64F4 platform locomotives come together, with completely different backgrounds.

The first batch contains all ES64F4 platform locomotives that Siemens has been building for its Siemens Dispolok subsidiary, managing locomotives for rental and leasing purposes since 2003. As Siemens decided to sell Siemens Dispolok at the end of 2006 to Mitsui leasing, all ES64F4s running at that moment for Siemens Dispolok became part of what's called now the MRCE-Dispolok fleet. Theoretically, it concerns a batch of 45 machines. However, several machines were sold to other operators before it was completed, so this number of machines never ran for Dispolok simultaneously. With the yellow-silver painted machines, Siemens has succeeded to tear down many European borders, and will continue to do so, say it now under command of MRCE Dispolok.

Also present in this section, are ten ES64F4 platform machines, which were originally built for the Deutsche Bahn in 2005. The bright red painted machines were sold to Mitsui in October 2006, which then rented them back to the German operator. At the end of 2007 however, Mitsui decided to make these machines available for other operators too. This included retrofitting extra equipment for crossing the German borders, and a rebranding of the machines by painting them black, so they would fit perfectly into the new corporate identity of MRCE-Dispolok.

Thirdly, the ambition of MRCE-Dispolok has no limits, the leasing company decided to order 50 additional ES64F4 platform machines when it acquired the Dispolok pool from Siemens in 2006. Later on this order was extended to even 70 units, of various different configurations.

In april 2011 MRCE Dispolok decided to order five additonal units for customers in the Central and Eastern Europe parts of Europe, certified to operate on long-distance routes from the Black Sea to the Baltic ports in Poland and to the Dutch border. Five units that Siemens laready had in stcok were selected. In april and may 2011, ES 64 F4-840 to 844 were delivered to MRCE Dispolok.

ES64F4 locomotives, built for the former Siemens Dispolok locomotive pool, aquired per 10.2006
1 batch - 45 locomotives
delivery period 09.2003 - 06.2007

designation ES64F4 001-028, 030-033, 088-099 and 400

ES64F4 locomotives, acquired from DB Schenker per 10.2006
1 batch - 10 locomotives

designation ES64F4 990-999

1 batch - 70 locomotives
order date xx.10.2006 (first 50 units, later on twenty extra units were ordered)

delivery 2009 - 2010

designation ES64F4 034-038, 082-087, 101-115, 151-159, 208, 210-213, 280-290, 401-409, 450-459

extra batch - 5 locomotives
order publication date 08.04.2011

delivery 04.2011 - 05.2011

designation ES64F4 840-844

operator official website:

Siemens official website:
http://www.siemens.com/ts


2017
| | |
| --- | --- |
| | |
| 2017-09-25 | [EU] MRCE ES 64 F4-842 now with Express Group logos |
| | |
| --- | --- |
| | |
| 2017-09-21 | [NL] Yellow-silver ES 64 F4-205 back in the Netherlands |
| | |
| --- | --- |
| | |
| 2017-06-20 | [CH/DE] Portrait of the Novelis locomotives ES 64 F4-094 and 090 [updated] |
| | |
| --- | --- |
| | |
| 2017-06-13 | [EU] Two new -Werbeloks- for SBB Cargo, Retrack and Novelis |
| | |
| --- | --- |
| | |
| 2017-05-31 | [NL] Aftermath: MRCE ES 64 F4-995 after its crash in Sevenum |
| | |
| --- | --- |
| | |
| 2017-05-24 | [EU] MRCE ES 64 F4-212 with NL-PL wrapping, now with LTE logos |
| | |
| --- | --- |
| | |
| 2017-04-21 | [NL] Detail changes stickers on MRCE ES64F4-209 |
| | |
| --- | --- |
| | |
| 2017-03-03 | [EU] MRCE > PKP Cargo 189 205 has lost its PKP stickers |
| | |
| --- | --- |
| | |
| 2017-02-21 | [NL] ERS Railways stops Melzo and Poznan container shuttles [updated] |
| | |
| --- | --- |
| | |
| 2017-02-09 | [EU] MRCE > LTE ES 64 F4 - 200 -Chengdu - Tilburg - Rotterdam- |
2016
| | |
| --- | --- |
| | |
| 2016-10-17 | [EU] MRCE ES 64 F4-009 is black; small error |
| | |
| --- | --- |
| | |
| 2016-09-10 | [IT] Portrait of MRCE > ISC ES 64 F4-016 in yellow |
| | |
| --- | --- |
| | |
| 2016-09-02 | [IT] MRCE > ISC ES64F4-403 in yellow ISC livery |
| | |
| --- | --- |
| | |
| 2016-08-31 | [DE] All the horses: portrait of MRCE > TX Logistik ES 64 F4-097 |
| | |
| --- | --- |
| | |
| 2016-08-13 | [AT] Horsepower! New livery for MRCE > TXL ES 64 F4-097 |
| | |
| --- | --- |
| | |
| 2016-08-02 | [IT] MRCE > ISC ES64F4-016 in yellow livery |
| | |
| --- | --- |
| | |
| 2016-07-05 | [IT] MRCE > ISC ES64F4-110 turns yellow, bright yellow |
| | |
| --- | --- |
| | |
| 2016-04-02 | [DE/PL] Five ES64F4s looking for work |
| | |
| --- | --- |
| | |
| 2016-03-21 | [PL] PKP Cargo: Where Vectrons come, ES64F4s have to go |
| | |
| --- | --- |
| | |
| 2016-01-11 | [EU] First Alpäzähmer in black: MRCE ES 64 F4-115 and -284 [updated] |
2015
| | |
| --- | --- |
| | |
| 2015-11-17 | [PL] PKP Cargo takes over ORLEN Koltrans |
| | |
| --- | --- |
| | |
| 2015-11-16 | [DE] ES 64 F4-996 goes to Dessau on Loco Buggies |
| | |
| --- | --- |
| | |
| 2015-11-05 | [DE] New stickers for MRCE ES 64 F4-150: Art of Rail |
| | |
| --- | --- |
| | |
| 2015-10-12 | [DE] MRCE ES 64 F4-150: old 2009 stickers visible again |
| | |
| --- | --- |
| | |
| 2015-09-26 | [DE/NL] Portraits of MRCE>ERSR ES 64 F4-206 -Vincent van Gogh- |
| | |
| --- | --- |
| | |
| 2015-09-19 | [PL/NL] New MRCE>ERSR ES 64 F4-206 -Vincent van Gogh- |
| | |
| --- | --- |
| | |
| 2015-08-15 | [EU] MRCE > TX Logistik ES 64 F4-287 -Rotterdam Bayern Express- |
| | |
| --- | --- |
| | |
| 2015-06-05 | [DE] DB Schenker hires ES64F4 again |
| | |
| --- | --- |
| | |
| 2015-05-08 | [EU] MRCE Es 64 F4-024 back in black after Brenner accident in December 2013 |
| | |
| --- | --- |
| | |
| 2015-04-21 | [NL] MRCE ES 64 F4-209 -European gateway Services- |
| | |
| --- | --- |
| | |
| 2015-03-31 | [AT] New LTE logos for ES 64 F4-156 |
| | |
| --- | --- |
| | |
| 2015-03-10 | [IT] Trenitalia logos for MRCE ES 64 F4-032 and -108 |
| | |
| --- | --- |
| | |
| 2015-03-06 | [CZ] LokoTrain receives first Vectron locomotive (ELL 193 220) [updated] |
| | |
| --- | --- |
| | |
| 2015-03-03 | [IT] MRCE ES 64 F4 locomotives for Trenitalia |
| | |
| --- | --- |
| | |
| 2015-03-02 | [DE] WLE hires MRCE ES 64 F4-453: hello no.82 |
| | |
| --- | --- |
| | |
| 2015-02-01 | [CH] MRCE ES 64 F4-024 back in black after accident |
| | |
| --- | --- |
| | |
| 2015-01-12 | [EU] PKP Cargo: new tender for 15+5 MS locomotives (replaces previous tender for 10+5) |
| | |
| --- | --- |
| | |
| 2015-01-08 | [IT] MRCE ES 64 F4-103 -European Gateway Services- in Italy |
| | |
| --- | --- |
| | |
| 2015-01-06 | [EU] MRCE ES 64 F4-115 is whole again |
| | |
| --- | --- |
| | |
| 2015-01-02 | [NL] ES 64 F4-289 and the CNL |
2014
| | |
| --- | --- |
| | |
| 2014-12-27 | [DE/AT/IT] SBB ES 64 F4-282 in service for Lokomotion |
| | |
| --- | --- |
| | |
| 2014-12-27 | [DE/PL] DB Schenker in Poland: red 189s replace the black ones |
| | |
| --- | --- |
| | |
| 2014-11-06 | [CZ] LokoTrain MRCE ES 64 F4-841 pulls the RegioJet |
| | |
| --- | --- |
| | |
| 2014-10-22 | [NL] The MRCE ES64F4s hired to the Dutch railways [updated] |
| | |
| --- | --- |
| | |
| 2014-10-18 | [CZ] Lokotrain hires MRCE ES 64 F4-841 [edit] |
| | |
| --- | --- |
| | |
| 2014-10-14 | [DE] Again, a V250 goes home |
| | |
| --- | --- |
| | |
| 2014-09-27 | [EU] Railcolor Short |
| | |
| --- | --- |
| | |
| 2014-09-08 | [EU] ES 64 F4s with SBB Cargo International logos [updatex2] |
| | |
| --- | --- |
| | |
| 2014-09-01 | [DE] Broken 189s in AW Dessau |
| | |
| --- | --- |
| | |
| 2014-08-08 | [DE] MRCE ES 64 F4-204 > Nordhausen > Dessau |
| | |
| --- | --- |
| | |
| 2014-07-31 | [NL] MRCE>Freightliner PL ES 64 F4-201 got a name: Koos |
| | |
| --- | --- |
| | |
| 2014-07-24 | [DE] MRCE ES 64 F4-096 repainted in black |
| | |
| --- | --- |
| | |
| 2014-07-11 | [EU] ERSR logos for ES 64 F4-202 |
| | |
| --- | --- |
| | |
| 2014-07-03 | [DE] The newly stickered ES 64 F4-212/213 |
| | |
| --- | --- |
| | |
| 2014-07-02 | [EU] ES 64 F4-112 with SBB Cargo International logos |
| | |
| --- | --- |
| | |
| 2014-06-26 | [PL/NL] Dutch King reveils 'Linked by Rail' locomotives |
| | |
| --- | --- |
| | |
| 2014-06-08 | [NL] Line-up 150 years of railways in Zwolle |
| | |
| --- | --- |
| | |
| 2014-05-07 | [CH] ES 64 F4-024 to Bellinzona |
| | |
| --- | --- |
| | |
| 2014-04-20 | [AT] ES 64 F4-096 will get a repaint |
| | |
| --- | --- |
| | |
| 2014-03-25 | [EU] MRCE ES 64 F4-032: Bosporus stickers removed [updated] |
| | |
| --- | --- |
| | |
| 2014-03-23 | [EU] ES 64 F4-843 with LTE logos |
| | |
| --- | --- |
| | |
| 2014-03-08 | [DK] Status of MRCE ES 64 F4-115 [updated] |
| | |
| --- | --- |
| | |
| 2014-01-06 | [EU] The end of HTRS (Husa) |
2013
| | |
| --- | --- |
| | |
| 2013-12-26 | [AT] MRCE ES 64 F4-024 hits a buffer stop in Brenner station |
| | |
| --- | --- |
| | |
| 2013-12-11 | [DE/CH/IT] MRCE ES 64 F4 with Captrain logos |
| | |
| --- | --- |
| | |
| 2013-12-09 | [EU] Silver Lokomotion striping on ES 64 F4-027 |
| | |
| --- | --- |
| | |
| 2013-12-03 | [AT/CZ] PKP Cargo ES 64 F4: three instead of two |
| | |
| --- | --- |
| | |
| 2013-12-03 | [DE] Train crash Padborg - Flensburg: the aftermath [updated] |
| | |
| --- | --- |
| | |
| 2013-12-02 | [DE] Over and out for DB 189 065? [updated] |
| | |
| --- | --- |
| | |
| 2013-11-19 | [HU] ES 64 F4-153 in Hungary |
| | |
| --- | --- |
| | |
| 2013-11-13 | [DE] Autumn by Sebastian Schrader |
| | |
| --- | --- |
| | |
| 2013-10-27 | [NL/DE] MRCE ES 64 F4-103 and -285 -European Gateway Services- |
| | |
| --- | --- |
| | |
| 2013-10-21 | [SK] Modern electrics & Metrans |
| | |
| --- | --- |
| | |
| 2013-09-16 | [PL/IT] PKP EU45s in Italy |
| | |
| --- | --- |
| | |
| 2013-06-21 | [PL] DB Schenker Rail Polska ES 64 F4-454 |
| | |
| --- | --- |
| | |
| 2013-06-02 | [PL] DB Schenker Rail Polska hires ES 64 F4 locomotives |
| | |
| --- | --- |
| | |
| 2013-05-18 | [AT] PKP Cargo in Austria |
| | |
| --- | --- |
| | |
| 2013-04-26 | [DE/DK/SE] The first EN 300 Berlin-Malmö for this year |
| | |
| --- | --- |
| | |
| 2013-04-23 | [IT] The green era ends / ES 64 F4-093 leaves Nordcargo |
| | |
| --- | --- |
| | |
| 2013-03-31 | [DE] The remains of ES 64 F4-204 |
| | |
| --- | --- |
| | |
| 2013-03-24 | [IT] steamy transport for ES 64 F4-093 |
| | |
| --- | --- |
| | |
| 2013-03-11 | [PL] MRCE / AWT ES 64 F4-150 looses a pantograph |
| | |
| --- | --- |
| | |
| 2013-03-04 | [DE/PL] Four MRCE ES 64 F4-45x heading for Poland |
| | |
| --- | --- |
| | |
| 2013-02-23 | [DE] Double PKP |
| | |
| --- | --- |
| | |
| 2013-01-14 | [DE] HUSA 096-1 in Berlin [updated] |
| | |
| --- | --- |
| | |
| 2013-01-04 | [DE] ES 64 F4-101 - running without a track |
2012
| | |
| --- | --- |
| | |
| 2012-10-17 | [DE] MRCE 189 204 in Nordhausen |
| | |
| --- | --- |
| | |
| 2012-10-15 | [CZ/AT] ES 64 F4-105 running for S4YOU |
| | |
| --- | --- |
| | |
| 2012-10-11 | [DE/PL] Package refit: MRCE ES64F4 VP > VH |
| | |
| --- | --- |
| | |
| 2012-08-20 | [DE] ES 64 F4-008 in black |
| | |
| --- | --- |
| | |
| 2012-08-13 | [IT] ES 64 F4-402 in Milan Central Station |
| | |
| --- | --- |
| | |
| 2012-08-11 | [RO] ES 64 F4-453 now also ready for Romania [updated] |
| | |
| --- | --- |
| | |
| 2012-07-03 | [DE] Railcolor Report: open door day in Wegberg-Wildenrath |
| | |
| --- | --- |
| | |
| 2012-05-28 | [PL/CZ] next one in PKP Cargo livery: ES 64 F4-154 |
| | |
| --- | --- |
| | |
| 2012-05-20 | [PL/DE/NL] PKP Cargo Logistics livery for ES 64 F4-205 + 805 |
| | |
| --- | --- |
| | |
| 2012-05-13 | [IT] MRCE ES 64 F4-087 - Interporto Servizi Cargo |
| | |
| --- | --- |
| | |
| 2012-04-21 | [NL] ES 64 F4-285 'Hanzelijn' |
| | |
| --- | --- |
| | |
| 2012-03-16 | [IT] now also ES64F4s with new CFI logos |
| | |
| --- | --- |
| | |
| 2012-03-09 | [DE/PL/CZ/SK/HU] PKP Cargo ES64F4s in Eastern Europe |
| | |
| --- | --- |
| | |
| 2012-03-08 | [NL] electric ES 64 F4-285 on the Hanzelijn |
| | |
| --- | --- |
| | |
| 2012-01-20 | [EU] MRCE purchases five additional electrics (ES 64 F4 802-806) [update/edit] |
| | |
| --- | --- |
| | |
| 2012-01-10 | [CZ] Siemens ES64F4 now 'homologated' for the Czech Republic |
| | |
| --- | --- |
| | |
| 2012-01-09 | [PL/DE] PKP Cargo Logistics recieves MRCE ES64F4 |
2011
| | |
| --- | --- |
| | |
| 2011-12-07 | [EU] MRCE ES 64 F4-101 restickered as VL |
| | |
| --- | --- |
| | |
| 2011-11-07 | [BE] Siemens ES64F4-VL homologated for Belgium [edited] |
| | |
| --- | --- |
| | |
| 2011-10-20 | [CH] Bellinzona workshops working on MRCE ES 64 F4-088 |
| | |
| --- | --- |
| | |
| 2011-09-27 | [DE] accident in Bleicherode - MRCE ES 64 F4-204 (2) |
| | |
| --- | --- |
| | |
| 2011-09-22 | [IT] ES 64 F4-105 TX Logistik Italia |
| | |
| --- | --- |
| | |
| 2011-09-22 | [DE] severe train crash in Bleicherode |
| | |
| --- | --- |
| | |
| 2011-08-15 | [DE] MRCE locomotives in service of DB Regio [update] |
| | |
| --- | --- |
| | |
| 2011-07-26 | [DB] ES 64 F4 in service of DB Regio: kick-of tomorrow [update #3] |
| | |
| --- | --- |
| | |
| 2011-07-16 | [EU] new logo for MRCE - the end of Dispolok |
| | |
| --- | --- |
| | |
| 2011-06-18 | [CH] the SBB workshops of Bellinzona outshops first overhauled MRCE ES64F4 |
| | |
| --- | --- |
| | |
| 2011-06-05 | [DE] MRCE ES 64 F4-84x series |
| | |
| --- | --- |
| | |
| 2011-05-13 | [EU] MRCE Dispolok news |
| | |
| --- | --- |
| | |
| 2011-05-06 | [EU] ES 64 F4-840 and 841 |
| | |
| --- | --- |
| | |
| 2011-04-08 | [EU] Five additional ES 64 F4 locomotives for MRCE Dispolok |
| | |
| --- | --- |
| | |
| 2011-03-13 | [NL] ES 64 F4-996 in HUSA livery |
2010
| | |
| --- | --- |
| | |
| 2010-09-28 | [DE] DB Schenker hiring ES 64 F4s: an overview |
| | |
| --- | --- |
| | |
| 2010-07-05 | [DE/NL] ES 64 F4-992 |
| | |
| --- | --- |
| | |
| 2010-06-09 | [BE] ES 64 F4 arrives in Belgium |
| | |
| --- | --- |
| | |
| 2010-05-24 | [EU] ES 64 F4s in Switzerland |
| | |
| --- | --- |
| | |
| 2010-05-10 | [CZ] At the test tracks of Velim/Cerhenice |
| | |
| --- | --- |
| | |
| 2010-04-20 | [EU] update on MRCE ES 64 F4s [update] |
| | |
| --- | --- |
| | |
| 2010-04-07 | [DE/PL/HU] ES 64 F4 type VM whereabouts |
| | |
| --- | --- |
| | |
| 2010-04-07 | [EU] change of colour |
| | |
| --- | --- |
| | |
| 2010-04-03 | [IR/DE] IranRunner 1503 and MRCE ES 64 F4 delivery completed |
| | |
| --- | --- |
| | |
| 2010-02-02 | [EU] all new MRCE Dispolok ES 64 F4s listed |
| | |
| --- | --- |
| | |
| 2010-01-18 | [PL] ES 64 F4 evaluated by Przewozy Regionalne |
| | |
| --- | --- |
| | |
| 2010-01-16 | [DE] 8x ES 64 F4 coming from Wegberg |
2009
| | |
| --- | --- |
| | |
| 2009-12-20 | [EU] SNCF/Veolia |
| | |
| --- | --- |
| | |
| 2009-12-18 | [IT] about Compagnia Ferroviaria Italiana |
| | |
| --- | --- |
| | |
| 2009-12-14 | [NL] ES 64 F4-208 in the Netherlands |
| | |
| --- | --- |
| | |
| 2009-12-14 | [DE/AT/IT] Nordcargo ES 64 F4 in passenger services |
| | |
| --- | --- |
| | |
| 2009-12-01 | [DE] ES 64 F4-092 black |
| | |
| --- | --- |
| | |
| 2009-12-01 | [DE/AT/IT] DB/OBB passenger services in Italy |
| | |
| --- | --- |
| | |
| 2009-11-27 | [NL/DE/PL] new ES 64 F4-VOs in revenue service |
| | |
| --- | --- |
| | |
| 2009-11-23 | [DE] repainting ES 64 F4s |
| | |
| --- | --- |
| | |
| 2009-11-15 | [EU] They keep on coming, those ES 64 F4s |
| | |
| --- | --- |
| | |
| 2009-11-08 | [EU] more ES 64 F4s for MRCE Dispolok? |
| | |
| --- | --- |
| | |
| 2009-10-27 | [EU] MRCE Dispolok ES 64 F4-VE overview (update) |
| | |
| --- | --- |
| | |
| 2009-10-19 | [EU] MRCE Dispolok ES 64 F4-VE overview |
| | |
| --- | --- |
| | |
| 2009-10-17 | [DE] LOCON hires ES 64 F4-206 |
| | |
| --- | --- |
| | |
| 2009-09-29 | [DE] MRCE Dispolok ES 64 F4 VL > VE |
| | |
| --- | --- |
| | |
| 2009-09-14 | [NL] TX Logistik in the Netherlands! |
| | |
| --- | --- |
| | |
| 2009-08-26 | [PL] PTK Holding evaluates the ES 64 F4 |
| | |
| --- | --- |
| | |
| 2009-06-30 | [DE] ES 64 F4-150 with promotional vynils |
| | |
| --- | --- |
| | |
| 2009-06-25 | [IT] ES 64 F4/4s |
| | |
| --- | --- |
| | |
| 2009-06-13 | [DE] about ES 64 F4s |
| | |
| --- | --- |
| | |
| 2009-06-09 | [NL] ES 64 F4-991 in ERS outfit |
| | |
| --- | --- |
| | |
| 2009-05-18 | [DE] Siemens 'Lokzug' |
| | |
| --- | --- |
| | |
| 2009-05-08 | [EU] ES 64 F4-012 promotes the Cream-project |
| | |
| --- | --- |
| | |
| 2009-05-06 | [IT] Nordcargo returns ES 64 F4 locomotives |
| | |
| --- | --- |
| | |
| 2009-05-04 | [AT] ES 64 F4-210 in Austria |
| | |
| --- | --- |
| | |
| 2009-05-04 | [IT] Nordcargo news |
| | |
| --- | --- |
| | |
| 2009-05-03 | [DE] first VP-configured ES 64 F4s have arrived |
| | |
| --- | --- |
| | |
| 2009-05-01 | [HU/DE] ES 64 F4-150 back home |
| | |
| --- | --- |
| | |
| 2009-04-15 | [DE] interesting transport arrives in Cologne West |
| | |
| --- | --- |
| | |
| 2009-04-11 | [DE/CZ] new: ES 64 F4-150! [update] |
| | |
| --- | --- |
| | |
| 2009-04-04 | [EU] Siemens press event |
| | |
| --- | --- |
| | |
| 2009-03-30 | [DE] ES 64 F4 news |
| | |
| --- | --- |
| | |
| 2009-03-24 | [DE] Siemens on the move |
| | |
| --- | --- |
| | |
| 2009-03-16 | [IT] NordCargo news |
| | |
| --- | --- |
| | |
| 2009-03-13 | [DE-TR] The Bosphorus Europe Express! |
| | |
| --- | --- |
| | |
| 2009-03-08 | [CH/IT] ES 64 F4s leaving Wegberg-Wildenrath |
| | |
| --- | --- |
| | |
| 2009-03-08 | [DE/NL] about ES 64 F4/2s |
| | |
| --- | --- |
| | |
| 2009-02-17 | [EU] new ES 64 F4s are spreading |
| | |
| --- | --- |
| | |
| 2009-02-14 | [NL] first ES 64 F4/2 in service |
| | |
| --- | --- |
| | |
| 2009-02-09 | ES 64 F4 number chaos [DE] |
| | |
| --- | --- |
| | |
| 2009-01-31 | [DE/NL] KombiVerkehr and ES 64 F4s |
| | |
| --- | --- |
| | |
| 2009-01-04 | [DE] new ES 64 F4s |
2008
| | |
| --- | --- |
| | |
| 2008-12-27 | [DE/NL/PL] the new ES64F4 sub type VO [update] |
| | |
| --- | --- |
| | |
| 2008-12-22 | [DE] ES 64 F4-210 spotted |
| | |
| --- | --- |
| | |
| 2008-12-04 | [CH] ES 64 F4 with TX logos |
| | |
| --- | --- |
| | |
| 2008-11-18 | [EU] Siemens short |
| | |
| --- | --- |
| | |
| 2008-11-17 | [DE] ES 64 F4 gathering |
| | |
| --- | --- |
| | |
| 2008-11-12 | [DE/AT] new Siemens products |
| | |
| --- | --- |
| | |
| 2008-11-12 | [NL] ES 64 F4-99x's in the Netherlands |
| | |
| --- | --- |
| | |
| 2008-10-31 | [DE] ES 64 F4-998 and -999 |
| | |
| --- | --- |
| | |
| 2008-10-21 | [DE] about 189 091/096-099 (update) |
| | |
| --- | --- |
| | |
| 2008-10-13 | [DE] 6 x ES 64 F4 |
| | |
| --- | --- |
| | |
| 2008-10-01 | [DE] MRCE Dispolok 189 091/096-099 |
| | |
| --- | --- |
| | |
| 2008-09-29 | [DE] ES 64 F4-401 und 402 have left Munich |
| | |
| --- | --- |
| | |
| 2008-09-25 | [NL] ERS Railways will get five ES 64 F4's |
| | |
| --- | --- |
| | |
| 2008-09-25 | [DE/NL] DB Schenker returns 189s to MRCE Dispolok |
| | |
| --- | --- |
| | |
| 2008-09-24 | [DE/PL] ES 64 F4-400 to Poland |
| | |
| --- | --- |
| | |
| 2008-09-20 | [HU] ES 64 F4-022 in Hungary |
| | |
| --- | --- |
| | |
| 2008-08-20 | [NL] 189 998 in the Netherlands |
| | |
| --- | --- |
| | |
| 2008-08-07 | [DK] ES 64 F4-021 in Denmark |
| | |
| --- | --- |
| | |
| 2008-08-07 | [DE] ES 64 F4-400 |
| | |
| --- | --- |
| | |
| 2008-08-01 | [IT] ES 64 F4-089 with SCMT |
| | |
| --- | --- |
| | |
| 2008-07-29 | [EU] Railcolor Short |
| | |
| --- | --- |
| | |
| 2008-07-28 | [DE] more about ES 64 F1-001, or shall we say 189 101? |
| | |
| --- | --- |
| | |
| 2008-07-21 | [DE] ES 64 F1-001 |
| | |
| --- | --- |
| | |
| 2008-07-12 | [PL] Siemens ES64F4 homologated for Poland |
| | |
| --- | --- |
| | |
| 2008-07-01 | [DE] Who is black? |
| | |
| --- | --- |
| | |
| 2008-06-10 | [IT] ES64F1 001 going south |
| | |
| --- | --- |
| | |
| 2008-06-02 | [DE] triple black |
| | |
| --- | --- |
| | |
| 2008-05-27 | [EU] Railcolor Shorts (update) |
| | |
| --- | --- |
| | |
| 2008-04-13 | [DE] ES64F4 094 and ES64F4 094... |
| | |
| --- | --- |
| | |
| 2008-04-12 | [DE] Wildenrath is popular / E189 090 is back |
| | |
| --- | --- |
| | |
| 2008-04-08 | [DE] [NL] Mitsui 189 090-099 all found a (new) employer |
| | |
| --- | --- |
| | |
| 2008-04-01 | [DE]>[IT] Tomorrow: TX E189 995-997 running to Italy |
| | |
| --- | --- |
| | |
| 2008-03-25 | [NL] 189 096-099 running for Railion again! |
| | |
| --- | --- |
| | |
| 2008-03-17 | [NL] 189 096 again in service of DB/Railion. |
| | |
| --- | --- |
| | |
| 2008-03-11 | [DE] 189 094 turns black.. |
| | |
| --- | --- |
| | |
| 2008-03-11 | [NL] [DE] MRCE and MRCE Dispolok merger... |
| | |
| --- | --- |
| | |
| 2008-03-08 | [HR] ES64F4 021 and 022 return to Dispolok |
| | |
| --- | --- |
| | |
| 2008-03-04 | [DE] MRCE Dispolok 189 092 |
| | |
| --- | --- |
| | |
| 2008-03-01 | [DE] CTL gets more ES64F4s |
| | |
| --- | --- |
| | |
| 2008-02-25 | [DE] MRCE-Dispolok news |
| | |
| --- | --- |
| | |
| 2008-02-08 | [DE] [NL] 189 090 |
| | |
| --- | --- |
| | |
| 2008-02-04 | [DE] E189 910 turns black.. |
| | |
| --- | --- |
| | |
| 2008-02-01 | [IT] ES64F4 089 looking a bit pale.. |
| | |
| --- | --- |
| | |
| 2008-02-01 | [IT] about the fleet of Nordcargo |
2003
| | |
| --- | --- |
| | |
| 2003-09-12 | [DE] Dispolok ES 64 F4-002 'Dispolok2' outshopped |
| | |
| --- | --- |
| MRCE ES64F4: General history | |
Liberalisation
Liberalisation of the European rail freight transport market has created to possibility for everyone (that possesses the mandatory safety and operation permits of course), to start its own rail operation company. By permitting new operators on the various European networks, competition levels should increase and prices should drop.

Newly founded open access operators entered the market, competing with the privatized national railway operators, to profit from the increasing demand for transportation. The open access operators come from various backgrounds,, but share a common problem. They have to start small, with tight budgets, often too tight to invest in modern, expensive rolling stock right from the beginning. Next to that, an operator first has to be sure that it has gathered a number of transport contracts with customers that are such a solid base that one can economically justifies serious investments in new rolling stock.

A leasing pool
The market for cheaper second hand vehicles was soon overloaded, inspiring Siemens to come with an interesting alternative for rail operators. Being a manufacturer they were able to set up a pool of modern electric and diesel locomotives in a relative short period. A pool of new and therefore state of the art locomotives, not for sale, but available for hire or lease to rail operators on a very flexible basis. Machines could be hired for one day, 6 months or even years, depending on the number of service contracts an operator is able to acquire. Risk of Investment is therefore being reduced.

Siemens also set up a service system for its pool locomotives. Mobile teams can service machines on location, for example during (un)loading its train. For repairs, general overhauls etc, a network of work shop was created throughout Europe. Should a machine accidentally break down, Siemens even guarantees direct replacement.

founding Siemens Dispolok GmbH
To manage its leasing and servicing activities, Siemens founded a separate subsidiary; Siemens Dispolok GmbH. The ES64F4 series became one of three successful products that Dispolok offered to its customers since 2000. It is identical to the DB 189 series, a multi-system freight locomotive, that theoretically can run on all western European rail networks with normal gauge (1435 mm) rail systems. Unlike the DB, Siemens decided to invest a lot in getting the yellow and silver painted machines homologated for many countries, as especially freight operation proved to 'internationlize' vey rapidly.

Dispolok for sale
This proved how fast the market for rail transport was changing, also affecting the position of Dispolok in the market. Independent investment companies discovered the lease market and massively invested in modern electrics and diesel locomotives. Lease companies were slowly becoming important customers for the railway industry, because they order locomotive power in large quantities. Their demands increasingly influence the innovation strategy of the industry. With its Dispolok pool, Siemens was increasingly competing with its own potential customers, so in 2006 it was decided to sell the subsidiary and to focus more on their core business again: building locomotives. Of course, the transaction was also financially attractive, raising money which can be invested in developing new products.

In October 2006, Mitsui, a leasing company originally form Japan, got permission to acquire Siemens Dispolok GmbH (from then on renamed as Dispolok GmbH), including the complete locomotive fleet, at that moment including around 35 ES64F4 platform locomotives (with ES64F4 001-005 already sold to Italian rail operator RTC and the ES64F4 028-033 still to be delivered). The deal also included an order for 50 more ES64F4 electrics, the first order from a leasing company for Siemens. Dispolok was renamed MRCE-Dispolok and positioned next to MRCE, the Mitsui subsidiary that was already active on the European market since 2004. Both companies were given a different focus. MRCE Dispolok serves customers in Austria, Italy, Poland and South East Europe, MRCE covers the other parts of Europe.

Restructuring MRCE and MRCE Dispolok
As of 01.04.2008, a next step was taken integrating the locomotive leasing operations of both MRCE (Amsterdam) and Dispolok GmbH (Munich). The integration comprised a transfer of all leasing operations to MRCE Dispolok, and a concentration of all corporate operations in Amsterdam, which will continue to carry the name of MRCE. All day-to-day locomotive lease operations including sales & marketing, fleet management, logistics management and service & maintenance management for the entire fleet of MRCE and MRCE Dispolok will be centralized in Munich, while the marketing and technology strategy & development, business administration, financing and budgeting, locomotive procurement and ownership will be homed in Amsterdam. Further unification of the fleet will be reached by applying the new MRCE (Dispolok) logos and painting all machines black as soon as possible.

further changed in the organisation, new name
Just before the summer of 2011, MRCE changed its logos. This was a result of another internal re-organization. All operational leasing activities are since then the repsonsibility of the Amsterdam-department. A new logo was introduced, only saying MRCE. Officially the end of the 'Dispolok' name on locomotives.
| | |
| --- | --- |
| MRCE ES64F4 (ex Dispolok): fleet composition | |
Siemens orginally built 45 locomotives for its Dispolok-fleet. Next to new locomotives, the pool also became an asylum for former prototype locomotives (DB 189 001-003) and units that became obsolete after cancelling other contracts (SBB Re474s).

Between 2003 and 2005 a first batch of 30 machines was built, ES64F4 001-018 being sub type 189-VD, and ES64F4 088-099 planned as sub type 189-VE. In 2006 and 2007 15 additional machines (ES64F4 019-033) joined the Dispolok fleet, partially delivered after MRCE had taken over.
---
ES64F4 003-005: former DB prototypes


ES64F4 003-005 were originally built for DB Schenker, designated 189 001-003, but after the completing the trail phase for the DB, it was decided to replace them by three new machines, identical to the series, 189 004-100. All three were repainted, retrofitted as sub type VD and integrated into the Siemens Dispolok fleet in spring 2004.

ES64F4 019-020: originally built for SBB Cargo

April 2006: two machines originally built for SBB Cargo, but never delivered as they were damaged during trials runs at the Siemens test centre in Wegberg-Wildenrath, are integrated into the fleet. Re 474 007 and 008 become ES64F4 019 and 020.
---
E189 929: a special case

May 2007: A ES 64 F4-029 never existed. This unit presented itself in 2007 as E 189 929 with a special black livery with Siemens logos, as VD-version. Not much later, the machine was retrofitted in Munich, and re-appeared as ES 64 F4-400, version VI. It was the first 'downgraded' unit for the Italian domestic market. It is still a four-system locomotive, but its software and safety equipment can only communicate in Italy. The machine has only two pantographs.
---
ES64F4 locomotives sold to customers

MRCE is also open for selling locomotives to operators. In September 2006, MRCE sold ES64F4 001-005 to one of its larger customers; Rail Traction Company (RTC) from Italy.

In December 2006, Lokomotion also purchased five machines. At first ES64F4 006-010 were selected, but there were problems with the contracts for 006, 008-010, at that moment still operated by the Austrian State Railways. Finally MRCE decided to sell ES64F4 007, 012, 014, 017 and 018 in stead.
| | |
| --- | --- |
| MRCE ES64F4 (ex Dispolok): renumbering | |
With the completion of the first machines belonging to the latest 50-unit order, in September 2008, a new numbering system was introduced for all ES 64 F4-series locomotives of MRCE Dispolok. Leading argument for a service number is now the country specific configuration of a locomotive. New units were delivered with new numbers, the existing fleet had to be renumbered.

In 2008 Siemens started an extensive program of testing and refitting many ES 64 F4s, for operators such as RTC, Lokomotion, SBB Cargo and MRCE Dispolok. The Siemens test center in Wegberg-Wildenrath (DE) is since then home to large numbers of these machines that have to get many new and many different safety and signalling systems. Next to the introduction of new configuration to the majority of existing the MRCE Dispolok fleet, also the introduction of the new Italian SCMT system and the European ECTS were incorporated in this program.

Around Christmas 2008, first two units of the existing fleet were released from Wegberg-Wildenrath again, having a new package and a new service number; ES 64 F4-204 and 205, the new idenity for ES 64 F4-021 and 022, in the future homologated for the Netherlands, Germany and Poland, representing the new Class189-VO configuration. With the 204, the white front on machines that did not get the MRCE black livery yet was introduced, as this is obligatory for running in the Netherlands.
An overview of the new MRCE Dispolok numbering system, as far as this is known:
| | |
| --- | --- |
| number serie | configuration |
| ES 64 F4-000-049 | class189-VD |
| ES 64 F4-050-099 | class189-VE |
| ES 64 F4-101-149 | class189-VL |
| ES 64 F4-150-199 | class189-VM |
| ES 64 F4-200-249 | class189-VO |
| ES 64 F4-280-299 | class189-VK |
| ES 64 F4-400-449 | class189-VI |
| ES 64 F4-450-499 | class189-VP |
The next table gives an overview of all renumbered (and refitted) ES 64 F4 units of the exsiting MRCE Dispolok fleet. For many machines the refitting also included a repaint in black.
| | | | | |
| --- | --- | --- | --- | --- |
| new number | new configuration | old number | old configuration | first spotted |
| ES 64 F4-150 | 189-VM | ES 64 F4-020 | 189-VD | 04.2009 |
| ES 64 F4-200 | 189-VO | ES 64 F4-006 | 189-VH | 02.2009 |
| ES 64 F4-201 | 189-VO | ES 64 F4-011 | 189-VH | 11.2009 |
| ES 64 F4-202 | 189-VO | ES 64 F4-013 | 189-VD | 05.2009 |
| ES 64 F4-203 | 189-VO | ES 64 F4-019 | 189-VD | 02.2009 |
| ES 64 F4-204 | 189-VO | ES 64 F4-021 | 189-VD | 12.2008 |
| ES 64 F4-205 | 189-VO | ES 64 F4-022 | 189-VD | 12.2008 |
| ES 64 F4-206 | 189-VO | ES 64 F4-025 | 189-VD | 06.2009 |
| ES 64 F4-207 | 189-VO | ES 64 F4-028 | 189-VK | 12.2009 |
| ES 64 F4-209 | 189-VO | ES 64 F4-033 | 189-VK | 12.2009 |
| ES 64 F4-400 | 189-VI | E 189-929 | 189-VD | 09.2008 |
| | |
| --- | --- |
| MRCE ES64F4 (ex Dispolok): Select your Locomotive: | |
Stock list of the MRCE-Dispolok ES64F4 series, purchased from Siemens Dispolok.

The units marked with grey are no longer part of the fleet (under that number). They either are sold to other companies or they have been renumbered.


| | |
| --- | --- |
| MRCE ES64F4 (ex DB): DB Schenker sells 10 units | |

The DB decided to close a deal with MRCE back in 2006; 189 090-099 were sold MRCE, and then rented back from the Japanese leasing company. The DB gets some money; Mitsui invests in relatively new locomotives, ready for service. All machines got a little shield in every cabin, saying that they were now official property of MRCE. In May 2007, 189 095 was even painted all black, the corporate colour of MRCE.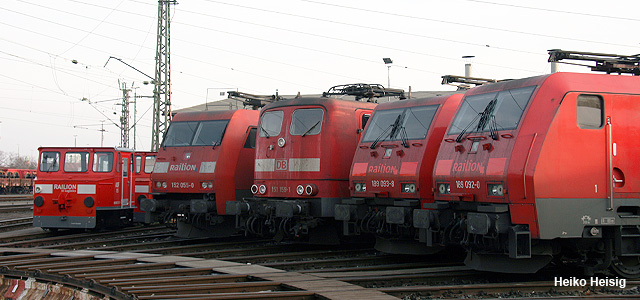 189 092 and 093 lost their Railion logos at the end of 2007
But then the story took a strange turn. In the summer of 2007 MRCE made clear that they now had other plans with the batch of then, involving true international services, serving other customers of the leasing company. From 07.2007 to 01.2008, the contracts with the DB for 5 machines were ended; their logos removed, so they could be rented out to other operators.

In July 2007, 189 090 and 095 were the first ones returned by the DB and they were selected to undergo a true metamorphose. In Berlin, both got a complete repaint in black and white, then to be transported to Siemens in Munich for retrofitting additional train detection equipment, upgrade their software and to mount two extra pantographs. After that, the units were ready for services in Germany and the Netherlands. Their equipment configuration is since then known as 189-VJ.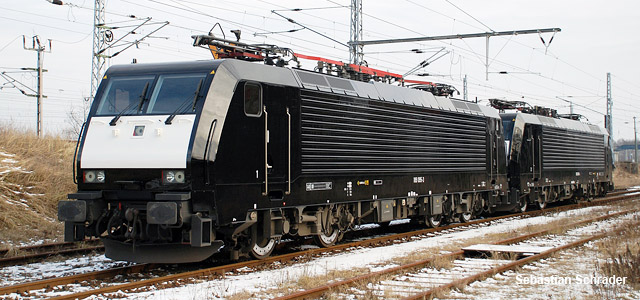 189 090 and 095 were the first to be repainted in black in December 2007!


In January 2008, 189 090 was the very first to leave Munich. Minor alterations were made to its basic livery and the new MRCE Dispolok logos were added. 189 092 got the same look. 189 093-095, to be hired to Veolia, did not get all these logos, as they were soon (again) restyled in Veolia colours.

The new MRCE Dispolok designation of these machines caused some problems. It would be logical to rename then as ES 64 F4-09x, but MRCE already operated locomotives with these numbers. For a short while there were two ES 64 F4-094s, as the former DB 189 094 got this number by mistake. It seems not be easy to decide what to call these machines then, so 189 090/092-095 were all delivered with only 'ES 64 F4' up front, which makes it a bit harder to identify them. The smaller Cesifer and UIC numbers can help out on this.


189 091 and 096-099 kept their red livery until September 2008. Like the other five machines they were retrofitted as sub type VJ in the first months of 2008 (hence the white front and UIC service numbers) but as they were rented out to DB Schenker again when they returned from the workshops, repainting was postponed.


At the end of September 2008, DB Schenker returned 189 091/096-099 to MRCE Dispolok, and all five arrived at Seddin (Germany) on 30.09.2008. From there they were transported to Berlin-Ruhleben, waiting for a make-over in black. On 13.09.2008 the first three, 091/096/097, were first spotted in their new MCRE livery. Most remarkable about the machines was that they did have complete MRCE Dispolok service numbers: ES 64 F4-991/996/997. The former 189 090/092-095 were still running around without a proper number by that time.

By the end of October, also ES 64 F4-998 and -999 were ready for service. -999 got an additional name while being repainted: Mike. All machines were still representing the VJ-configuration and were rented out to Dutch freight operators ERS Railways and ACTS.
| | |
| --- | --- |
| MRCE ES64F4 (ex DB): Select your locomotive: | |
Stock list of the MRCE-Dispolok ES64F4 series, purchased from DB Schenker in 2006.


| | |
| --- | --- |
| MRCE ES64F4 (new): 80 new locomotives | |
In 2006 Mitsui Rail Capital Europe, a leasing company from Amsterdam and a subsidiary of Japan-based Mitsui Corporation, decided to take over the complete Dispolok fleet from Siemens Transportation systems.


With its Dispolok pool, Siemens was increasingly competing with its own potential customers, so it was decided to sell it and to focus more on their core business again: building locomotives. Of course, the transaction was also financially attractive, raising money which can be invested in developing new products.


In October 2006, Mitsui, got official permission from the European Union to take over Dispolok GmbH. The deal also included an order for fifty new units, the first order from a leasing company for Siemens, which are covered in this section. There are two different sub series, of which one is a first-timer. Thirty units will be normal four-tension machines, like all other ES 64 F4 platform machines up till then, the other twenty will bunits for 3kV DC voltage systems only, or to be more precise, built for the Italian and Polish domestic market and a direct opponent of Bombardier's Traxx2E DC series.



At the end of 2007, Siemens started to build the very first frames and bodies for these new batches, but already in the spring of 2007 we could see a glimpse of what was to come; The very last ES 64 F4 locomotive, part of the initial Dispolok batch of 45, was delivered in black, the first step in finding the new corporate identity for MRCE Dispolok. The machine intially got service number E189-929 and was a fully fledged VD configurated unit. In 2008 the machine was reconfigured (and renumbered from ES 64 F1-001 to ES 64 F4-400) so that it could only run under 3kV voltage systems, the first sign of MRCE Dispolok wanting to differentiate its fleet more. This so called VI-configuration was a next step in a program soon to incorporate many different versions, together covering all needs of operators throughout Europe.
At the end of 2009, it became clear that Siemens and MRCE Dispolok had renegotioted the contract. MRCE Dispolok decided to order twenty additional units, bringing the total amount on a staggering 70 units, incorporating 8 different configurations:
5x VD > ES 64 F4- 034 to 038
6x VE > ES 64 F4- 082 to 087
9x VI > ES 64 F4- 401 to 409
11x VK > ES 64 F4- 280 to 290
15x VL > ES 64 F4- 101 tot 115 (however delivered as VE, as the approval for Belgium was not there yet at that time)
9x VM > ES 64 F4- 151 to 159
5x VO > ES 64 F4- 208 and 210 to 213
10x VP > ES 64 F4- 450 to 459


First newly built machines representing the MRCE Dispolok order left the Siemens factories in September 2008. On 29.08.2008 two black painted units with provisory numbers einding with '189 401' and '189 402' were transported to Siemens' test center Wegberg-Wildenrath, hauled by ES 64 F4-006. Since that month Siemens is gradually releasing new black machines, all going to Wegberg in sometimes impressive (up to 8-9 units) convoys. Delivery will end in 2010.
Revenue services with new units started at the end of 2009. The VI-configurated units were the first, starting in Italy, with Nordcargo, Rail Italia and CFI as lessors. CTL Logistics hired most of the new VO units, and several VKs were hired to ERSR, TXL and again CTL Logistics. Przewozy Regionalne from Poland was the first to use VP-units: they hired unit 457 and 458 in January 2010.
---


In March 2011, MRCE Dispolok bought another five ES 64 F4 locomotives for its pool. All five were selected from the Siemens stock pool. The white 189 840-844 (version VM) were selected to be painted black by Dangelmayr in Berlin. This was done in April 2011. Renumbered ES 64 F4-840 to 844, they were delivered to MRCE Dispolok in April-May 2011.
| | |
| --- | --- |
| MRCE ES64F4 (new): Select your Locomotive: | |