in short

DB Schenker 189 series

In 1995, German rail operator DB ordered 195 freight locomotives by Siemens-Kraussmaffei, for domestic freight services; the designated 152 series was delivered between 1997 and 2001.

The 1995 order included an option for 100 more locomotives, turned into a fixed order for Siemens in August 1999. The DB decided to take a pretty wild guess, when they decided that these machines had to be fit for true pan-European services, resulting in a technical far more complicated and more expensive machine than a 152 series locomotive, upon the new machine would be based.

Also long before international operability became a key word in European railway operation, Siemens started with the development of new class of locomotives, more advanced and more flexible than ever before. This resulted in the DB designated 189 series, not only a milestone for Siemens, but for the development of the electrical locomotive in general. Thanks to the three-phase current propulsion system and the use of the new IGBT (insulated gate bipolar transistors) technique, it should now be possible to built a reliable locomotive that could run under all 4 voltage systems used in Europe, that would be light (less than 88 t) and compact enough to be homologated for most European countries and that at the same time would be one of the most powerful 4-axle electrics around.
Naturally, this required some serious investments, as the DB had to pay 20% more for each machine now, compared to a 152 series locomotive. Up to 2005 all 100 machines were built and delivered to the DB, that curiously (and unlike competitors that purchased similar machines in the mean time) did not want to rush things when it comes to using these 'Euro'locomotives for real international services; up till December 2007, no 189 series locomotive ran one meter outside the German network during regular service! On the long haul, the 189 will surely expand its service domain towards many neighbouring countries, but it is still questionable if it was wise to order such a large batch of expensive machines that will not be used to their full potential during their first 5-10 years of service, 12 to 25% of their life cycle.
Nevertheless the 189 series, also known under their Siemens designation ES64F4, has taken international freight railways a step further, of which many other operators can profit nowadays.

1 batch – 100 locomotives

order date 13.08.1999

follow-up order of the DB Schenker 152 series

delivery period 04.2003–12.2005

by delivery

homologated for Germany only

operator official website:

http://www.railion.de
Siemens official website:
http://www.siemens.com/ts

2017
| | |
| --- | --- |
| | |
| 2017-07-14 | [NL] White 189 series locomotives of DB Cargo in the Netherlands |
| | |
| --- | --- |
| | |
| 2017-05-26 | [DE] Siemens sells 189 822 and 823 to Deutsche Bahn |
2016
| | |
| --- | --- |
| | |
| 2016-09-30 | [NL] DB Cargo 189 072 at Amersfoort: derailment |
| | |
| --- | --- |
| | |
| 2016-05-04 | [CZ] Bombardier TRAXX AC3 parade |
| | |
| --- | --- |
| | |
| 2016-03-03 | DB Cargo is the new DB Schenker Rail |
2015
| | |
| --- | --- |
| | |
| 2015-05-08 | [EU] Siemens completes the retrofit of 32 189 series locomotives with VM50Hz package for service in Poland and the Czech Republic |
| | |
| --- | --- |
| | |
| 2015-01-26 | [DE] DB Schenker 189 065 back in service |
2014
| | |
| --- | --- |
| | |
| 2014-12-27 | [DE/PL] DB Schenker in Poland: red 189s replace the black ones |
| | |
| --- | --- |
| | |
| 2014-11-29 | [DE/CZ/PL] Close-up: DB Schenker 189 060 -version VM50Hz- |
| | |
| --- | --- |
| | |
| 2014-10-27 | [DE/CZ/PL] DB Schenker 189 057 -version VM50Hz- |
| | |
| --- | --- |
| | |
| 2014-09-27 | [EU] Railcolor Short |
| | |
| --- | --- |
| | |
| 2014-09-01 | [DE] Broken 189s in AW Dessau |
| | |
| --- | --- |
| | |
| 2014-05-11 | [CZ] Super Siemens train in VUZ Velim |
| | |
| --- | --- |
| | |
| 2014-04-27 | [CZ] New: DB Schenker 189 version VM 50Hz [editedx2] |
2013
| | |
| --- | --- |
| | |
| 2013-12-02 | [DE] Over and out for DB 189 065? [updated] |
| | |
| --- | --- |
| | |
| 2013-10-21 | [DE] DB Schenker Rail 189 078 burning |
| | |
| --- | --- |
| | |
| 2013-08-04 | [DE/NL] DB Schenker 189 074 back in service (crash Düsseldorf-Eller) |
| | |
| --- | --- |
| | |
| 2013-06-11 | [DE] DB Schenker 189 008 back in service |
| | |
| --- | --- |
| | |
| 2013-02-24 | [DE] R1 overhaul cycle on the 189 series |
| | |
| --- | --- |
| | |
| 2013-01-24 | [DE/PL/CZ] Siemens to convert 32 DB Schenker Rail 189 series locomotives |
| | |
| --- | --- |
| | |
| 2013-01-14 | [DE] 189 065: with 30 kph to Köln-Gremberg |
| | |
| --- | --- |
| | |
| 2013-01-12 | [NL] History: 189 047 at Roosendaal Spoort |
2012
| | |
| --- | --- |
| | |
| 2012-12-21 | [DE] Train crash in Düsseldorf-Eller [updated] |
| | |
| --- | --- |
| | |
| 2012-05-05 | [DE/AT] DB Schenker 189s overhauled in... Linz |
2011
| | |
| --- | --- |
| | |
| 2011-09-07 | [DE/NL] no more Tulips |
2010
| | |
| --- | --- |
| | |
| 2010-03-12 | [DE/NL] update on 189 with automatic couplers |
2009
| | |
| --- | --- |
| | |
| 2009-11-20 | [DE/NL] more VJ-189s for DB Schenker (update) |
| | |
| --- | --- |
| | |
| 2009-08-22 | [DE/NL] more 189s for the Netherlands (update) |
| | |
| --- | --- |
| | |
| 2009-08-16 | [DE/NL] more 189s for the Netherlands |
2008
| | |
| --- | --- |
| | |
| 2008-06-17 | [NL] 189 023 powered by Prorail |
| | |
| --- | --- |
| | |
| 2008-05-27 | [EU] Railcolor Shorts (update) |
| | |
| --- | --- |
| | |
| 2008-05-18 | [EU] Railcolor Shorts |
| | |
| --- | --- |
| | |
| 2008-04-02 | [DE] 189 081 is back |
| | |
| --- | --- |
| | |
| 2008-03-27 | [DE] the DB about its new corporate identity |
2003
| | |
| --- | --- |
| | |
| 2003-12-04 | [DE] 189s with Railion2 logos |
| | |
| --- | --- |
| | |
| 2003-11-11 | [NL] 189 004 and 007 at Kijfhoek |
| | |
| --- | --- |
| | |
| 2003-09-10 | [DE] 189 012 delivered without logos |
| | |
| --- | --- |
| DB 189: 3 prototypes and serie delivery | |
The era of the new EuroLok started in September 2002, when one of three prototypes were completed in Munchen-Allach and was being transported to the Velim test circuit in the Czech Republic, followed by other exotic trips to the north of Sweden for trials in extreme weather conditions and Luxembourg to test the 25kVAC equipment.


Test program ended in April 2003 and 189 001-003 were handed over to the German operator. Serie delivered started one month later. The DB career of the original 189 001-003 soon proved to be a short one, as they were already withdrawn again in October-November 2003. The DB demanded 100 identical machines and the prototypes slightly differed form the series batch. In stead of retrofitting them, Siemens decided to replace them by three new machines, again numbered 189 001-003, and integrate the old ones in their own Dispolok fleet.


Next to technical differences, the prototypes looked slightly different from the series batch. They had nice integrated steel rain gutters above the cabin side, no rubber strips. The grey paint on the frame section was just going a little further around the corner on both front sections and initially the design of their entrance doors was different.


The remaining 97 locomotives were delivered between May 2003 and December 2005.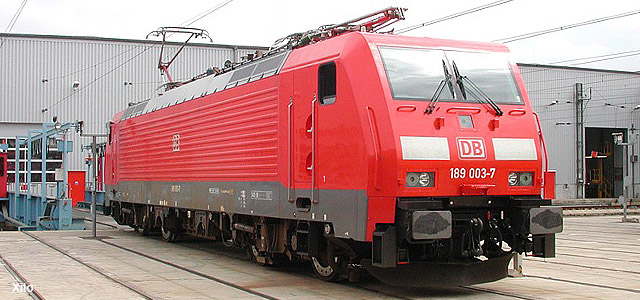 brand new prototype locomotive 189 003
the basics
Between 1996 and 2007, the operator of the 189 series changed name several times, and so did corporate logos applied on its rolling stock. The basis however remained the same up till now; body in RAL 3020 'Verkehrsrot' and frame/roof tops in RAL 7012 'Basaltgrau'. When first machines were delivered, at the end of 2002 and in the early months of 2003, a small DB logo up front and on both sides was the standard. 189 001-003 (prototype batch) and 189 004-011 got them.

In September 2003 however, Railion became the news standard, including new Railion logos with the small blue square on the right. 189 010, at that moment still waiting in Munchen-Allach for official delivery, was the first to get the 'Railion 2' look ('2', as there was already a first Railion look the end of the 90s. A first attempt to introduce the Railion identity, using a similar logo, but with a blue square on the left..).

From the 189 012 on, Siemens delivered all new 189 series locomotives without logos, as Railion would apply them when they would be handed over to the operator in Nurnberg. This however only happened to 189 013, 022-025, 030-031, 038-042, 046-049 and 052 (detail: 189 030 and 048 only got them on both cab fronts). Others, including the three prototype replacement locomotives, went into service being 'naked'. 189 054-099 were delivered with Railion2 logos by Siemens. At the end of 2005, Railion DB Logistics was the new official name of the operator, only promoted by the very last machine of its batch, 189 100, because it was handed over to the DB with a small ceremony.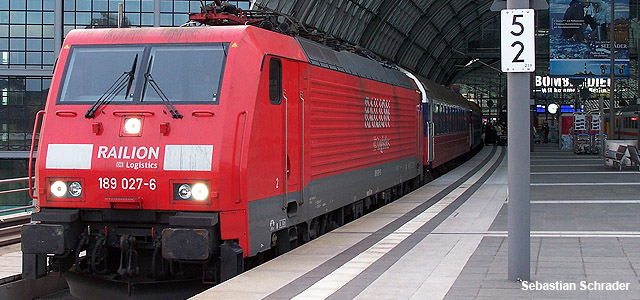 One of four 189s that got Railion DB Logistics logos, in Berlin hauling a passenger train.
livery changes after delivery
Between 2003 and 2007 the design of very few locomotives changed. 189 001II, 002II, and 004 got Railion 2 logos in 2003 and 2004. 189 027 was the first to get DB Logistics logos, in November 2005, 189 010 and 013 followed soon. At the end of 2007, the latest name was introduced; DB Schenker. All machines get small DB logos again, but this has not affected the look of any 189 series machine up til now.

'Holland-Latz'
With the introduction of the 189 in the Netherlands in December 2007, one could say a new standard was created. Dutch rail safety authorities demand that all vehicles on their territory have a bright yellow or white front to increase visibility. 189 065-080, 082-089 and 100, those were selected for services to Holland, got a bright white front, without logos.
| | |
| --- | --- |
| DB 189: on the BetuweRoute | |

Between 2003 and 2007, several 189 series locomotives visited the Netherlands. Especially the BetuweRoute was a popular destination. 189 004, 007, 010 and 013 were frequent visitors, used for trials that would eventually lead to homologation of the 189 series in Holland and at the same they could be used to evaluate the BetuweRoute infrastructure and train detection systems. 189 016 was assigned to the official BetuweRoute test train, from June 2006 to December 2006. It got special logos for this.
| | |
| --- | --- |
| DB 189: 189 090-099 sold to MRCE Dispolok | |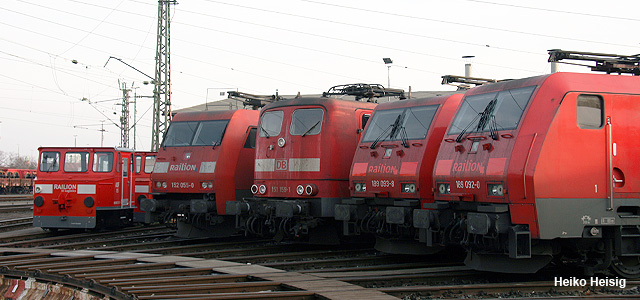 an ex-Railion 189, not hard to recognize..
Banks, governmental bodies and other financial companies have always been involved in financing rolling stock, often requiring a considerable investment for an operator. But since the late 90s there is a new phenomenon in the railway market; leasing companies that explicitly profile themselves as top providers of rolling stock for railway operation. Like for airplanes, see-ships, automobiles, one can now lease or hire a locomotive for a certain period of time. In Europe, Angel Trains Europe (ATE), Mitsui Rail Capital Europe (MRCE), CBRail and Allco are examples of companies investing large sums of money into the rail way market, slowly replacing the good old state operators as leading customers for the industry.


The DB decided to close a deal with MRCE back in 2006. The leasing company would buy 10 of their 189 series locomotives, designated 189 090-099, to be leased back to the DB again; a construction called sale-lease-back. The DB earns some money; Mitsui invests in relatively new locomotives, ready for service. All machines got a little shield in every cabin, saying that they were now official property of MRCE. In May 2007, 189 095 was even painted all black, the corporate colour of MRCE.

But then the story took a strange turn. In the summer of 2007 MRCE made clear that they now had other plans with the batch of then, involving true international services, serving other customers of the leasing company. From 07.2007 to 01.2008, the contracts with the DB for all 10 machines were ended; their logos removed so they could be rented out to other operators.


In July 2007, 189 090 and 095 were the first ones returned by the DB. They were sent to Berlin for a true metamorphose at the paint shops of Dangelmayer. After that, they were transported to Siemens in Munchen for retrofitting additional train detection equipment, upgrade their software and to mount two extra pantographs.


In January 2008, 189 090 was the very first to leave Munchen, all black and shiny, with new MRCE-Dispolok logos, the MRCE subsidiary that manages all locomotives for customers in the South and Central Europe. 189 092-095 got the same treatment in the months that followed. The machines got new service numbers, but it took quite some time to find a satisfying solution. The problem was that MRCE-Dispolok already operated a considerable fleet of ES64F4 locomotives (the former Siemens Dispolok machines) including machines numberes as ES64F4 090-099. MRCE-Dispolok planned on renumbering the former DB machines as ES64F4 series, but simply taking over the DB numbers was therefore not possible. Only the repainted 189 094 carried service number ES64F4 094 for a short while. Also former Dispolok machine ES64F4 094 was already repainted in black at that time, so for a short time two identical machines were running around. Luckely, 189 093-05 are now on hire to Veolia Cargo, which changed their appearance again, now carrying red and grey vinyls. At this moment, the five former DB-locomotives that are repainted in MRCE-Dispolok colors, only carry designation 'ES64F4' up front. You can only identify them now by there RFI service number, E189 090/092-095.

And 189 091/096-099? Curiously, after being returned by DB Schenker, they were transported to Siemens test center in Wegberg-Wildenrath and retrofitted with all equipment needed for running in Holland. They got a white nose, but kept their red DB livery. Per April 2008 these machines are being used for long-haul services from Germany to Holland and vice versa by...... DB Schenker!

Although having the potential the become a genuine European locomotive, it took quit a long time to start up revenue services that actually crossed the German border. A first, small step was taken in February 2006; since then the 189 003-012 have a restricted approval by the Czech railway authorities to run between Bad-Schandau in Germany and Decin in the Czech Republic.
| | |
| --- | --- |
| DB 189: the Netherlands, 1st batch | |
In December 2007 revenue services to the Netherlands started. For this, Railion had the 189 023 (prototype), 065-080, 082-089, and 100 refitted; All machines got extra pantographs, ETCS detection systems, UIC service numbers and white front surfaces for better visibility, obligatory in Holland. The 189s can run on both the classic freight corridors and the BetuweRoute and represent the ES 64 F4 sub type VJ.

189 065 got a special livery to clebrate DBs expansion to the west. 189 023 kept on performing trails. In the summer of 2008 it was hired to ProRail for example for testing on the HSL-Zuid.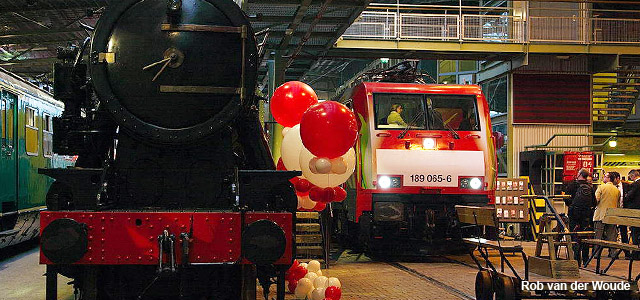 Blumen-lok 189 065 attended the opening of a new exhibition about freight transport in the National Railway Museum in Utrecht, the Netherlands, back in November 2007.
| | |
| --- | --- |
| DB 189: the Netherlands, 2nd batch | |
In the Summer of 2009, DB Schenker started the second round of refitting. This time 32 units were adjuested fur running in the Netherlands; 189 024-054 (previously with VA configuration) and 081 (VB2 confiuguration).





During the second round, a machine has re-appeared we haven't seen for a long time: 189 081. Due to damage this machine has been out of service for a long time and did not make it to the first round. After its refit it was spotted a lot in service of DB Autozug, which, since the summer, hired 189s for EC services to Amsterdam.

In the weekend of 30 and 31 November 2008, Railion performed trials with a 1000 meter freight train over the BetuweRoute, from Oberhausen to Rotterdam. This trial is part of the GZ1000 project, with which the DB is evaulating the every day feasability of extra long freight trains. The project also included a test with an 800 meter train between Hamburg and Denmark that year.

For the Dutch trial, locomotive 189 072 was selected, therefore it got the GZ1000 markings.
In 2009 Siemens and DB Schenker conducted an experiment with unit 189 065, during which it was equipped with Faiveley Transpact TTK automatic couplers, also known as C-AKv couplers. The results were promising because DB Schenker decided to equip 18 units, then to be used for the heavy ore trains from Rotterdam [NL] to Dillingen [DE], replacing 6400 diesel units in the Netherlands and the 151 series in Germany.

Siemens started the refit-program in February 2010, the first four units were outshopped in Munich on 06.03.2010. These units are easily recognized by the yellow painted couplers and yellow warning vinyls are their frame ends.
The 189 030-032 and 036 left Munich in 06.03.2010, heading for Gremberg.
| | |
| --- | --- |
| DB 189: Select your Locomotive: | |