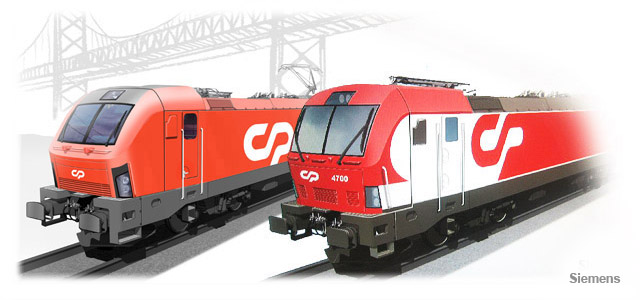 Already back in 2006 the first artist impression fo the LE 4700s were published.
In 2008, the LE 4700 designated EuroSprinter was handed over to the Potuguese national railways. It was the first Siemens electric representing the latest version of the Siemens EuroSprinter platform. The machines have Iberian gauge bogies (1668 mm), and a top speed of 140 kph. Their service domain includes both passenger and freight services. With an eye on the future, the LE 4700s electrical system can easily be adjusted for service under 3 kV DC voltage systems additionally, making it a multi-system machine which can also operate into Spain. Also its bogies can be converted to 1435 mm gauge later on.

The locomotives have a duration power of 4.600 kW. Less than the 6.400kW that has become the standard for Siemens EuroSprinter electrics during the past decade. This lower output was deliberately chosen, as it requires a smaller transformator, saving weight and costly metals.
Siemens was responsible for the complete construction of the first three machines, completed by the end of 2007. With those machines static and dynamic trails will be completed. LE 4701 arrived in Portugal early March 2008, after a long journey by road-transport. At the same moment the first kit (LE 4704) was delivered from Munchen-Allach to Emef, subsidiary of the CP and sub-contractor for assembly of the remaining 22 machines of this order. On 19.03.2008 the LE 4701 made its first public appearance, and the trial phase officially started for this new genereation electrics that will finally lead to a succesful introduction of these elegant EuroSprinters in regular services.

All machines are painted in a distinct red and white livery, designed by the CP, which was officially presented in October 2006. Curious detail is that according to the CP numbering scheme, designation LE 4600 should be assigned to these machines, as it is based on the duration power of the machines, but as this could become confusing as there is already a LE 5600 series, it was chosen to apply the LE 4700 designation.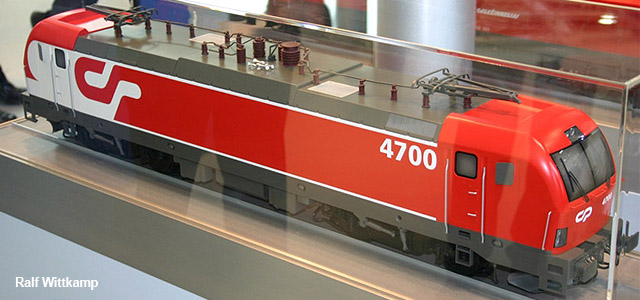 In September 2006 the final design of the LE 4700 could be admired at the Innotrans 2006 International railway fair in Berlin, in scale 1:20...)